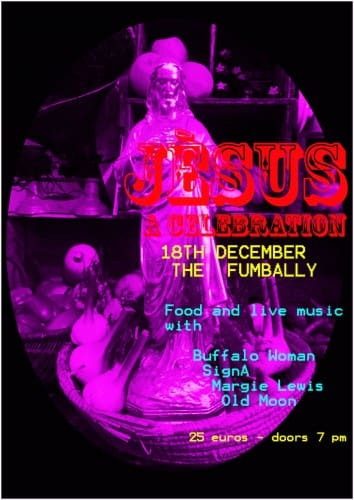 Every musician or artist has supported their careers with a part time job in a restaurant or bar at some point. It's kind of a rite of passage in the creative realms, no? If you've ever wondered what our staff do the other 4 days a week that they are not making coffees and bringing you food… This is it.
Neil (Buffalo Woman), Stefano (SignA), Margie (Margie Lewis) and Jill (Old Moon) are an amazingly talented group of people that are regularly on the bills for the likes of Electric Picnic, Body & Soul, Another Love Story, and Hard Working Class Heroes. They have gigged everywhere in Dublin – Vicar Street, Whelans, The Joinery, Sweeneys, The Back Loft…..they've done them all. And when they're not on stage we have their creative input in the cafe (lucky us).
Following such incredible people as Lisa Hannigan, Jennifer Evans and Rhob Cunningham (from previous years), this is going to be a great night and a lovely way to wind down the year before we close for our 2 weeks Winter holidays.
Heres a few memories from the night with Lisa Hannigan in 2012:
And what to expect from this year:
Food on the night is going to be based on a set of ingredients given to us by each of the artists. Here's what they gave us: VENISON-PARSNIP-POTATO-STAR ANISE
And that's all we're giving you for now……You'll have to wait until the night to see what we're doing with them.
(there will be a vegetarian substitute for the venison for those who don't eat things with faces)
Margie Lewis – https://soundcloud.com/margiejeanlewis/the-thread-demo
SignA – https://www.youtube.com/watch?v=L65LWYAK364&feature=youtu.be
Buffalo Woman – https://soundcloud.com/stranded_aoife/u-make-me-high-buffalo-woman
Old Moon – https://www.youtube.com/watch?v=StFUsk-4ZLA
Tickets are €25 which includes your food and live music
they can be bought from The Fumbally
Thurs 18th December
Doors 7pm
food will be served until 8pm, music starts 8.30pm
https://thefumbally.ie/wp-content/uploads/2014/12/poster-small2-e1417612248488.jpg
239
793
TheFumbally
https://thefumbally.ie/wp-content/uploads/2021/07/the-fumbally-logo-Header.svg
TheFumbally
2014-12-03 13:23:18
2015-04-30 11:54:34
¡Jésus! A Celebration – Thurs 18th Dec 2014